Web Design Provo Utah
Are you looking for a credible Provo web design company that will help your business expand its online web design presence?
Provo Web Design Services
Upward Web Agency offers various services, including web design, landing page design, and search engine optimization, using leading-edge technology to create custom, search-engine-optimized websites for businesses.
Web Design
We set up websites for small businesses and local medium-sized companies in the Provo, Utah area. They're easy to maintain, quick, and look great. Let our web designers take control of your website.
Landing Page Design
Are you looking to promote your business online? A landing page can be all you need. You don't always need a full-functioning website. Our top web designers can build you a landing page for your Provo business.
Website Optimization
Perhaps your website is slow, or perhaps for some reason your code has broken. Maybe it works on only one device, but not the other. Our Provo web design team can bring your website back to life.
Our Project Process
Step by step, our Provo web design agency follows a systematic procedure when creating websites. Read below to discover what they do.
#1. Client Meeting
We will meet with our client to discuss the desired project goals, followed by a focus on creating a project scope. From that point, we set a timetable, lay out a list of resources, establish contacts, and conclude the project.
#2. Research
Afterward, we take advantage of market research to identify the most suitable choices for your project. It encompasses everything from considering current market trends, and competitor analysis, to other topics. This research step will help you gain an advantage over simply executing a site without any research behind it.
#3. Wireframe
Before we dive into the build phase after evaluating our findings from our preliminary research meeting with the customer and market research, we begin wireframing. As we're designing the user interface based on the device type, we look at mobile, tablet, and desktop devices.
#4. Build
Finally, we can build your website. This is the phase where everything comes to life. It truly is the most enjoyable part of the process! A Provo web designer will bring your website to life. Once we finish building your site, we go through a QA process to make sure everything is working.
Recent Work of Ours for Provo Businesses
Live Well Speech Therapy
Live Well Speech Therapy, located in Utah County, specializes in assisting adults with cognitive, speech, voice, and swallowing therapies. Proudly serving the communities of Provo and surrounding Utah County areas.
Ballet on Cobblestone Road
Ballet on Cobblestone Road is a ballet studio in the Provo-Springville area focusing on ballet for children. This studio wanted a website so parents can view class information, schedules, etc. as well as a form so parents inquiring about classes can do so.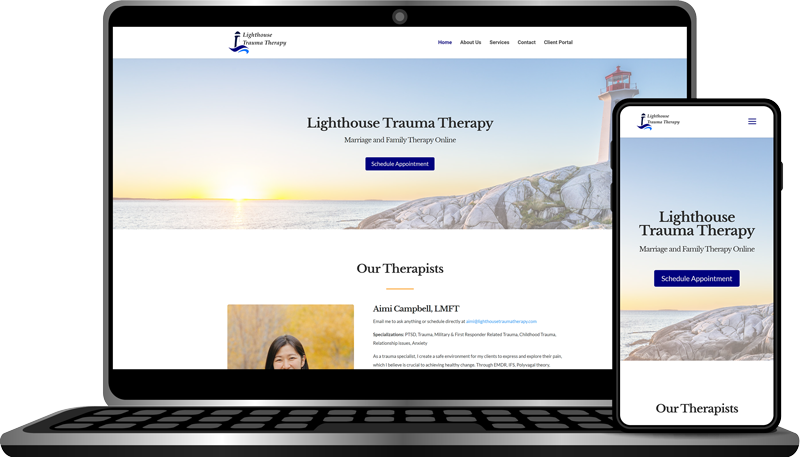 Lighthouse Trauma Therapy
Lighthouse Trauma Therapy is a telehealth trauma therapy focusing on marriage and family therapy. The therapist wanted a simple website where people could get in contact with them.
Why Choose Us for Web Design in Provo
"Jared and Upward Web Agency are super professional. His communication is top notch and he'll work until all your needs are addressed. I'm very pleased with all the work he has done and continues to do for me."
Salim Oden
Provo Web Design Experts Are Waiting for You
Upward Web Agency specializes in web design in Provo, Utah, transforming the digital content landscape. Our Provo web services are the best around town! Let us help you achieve a dynamic, updated online presence to grow your business.
Give us a call at (385) 325-1335 or email us at contact@upwardwebagency.com to learn more.